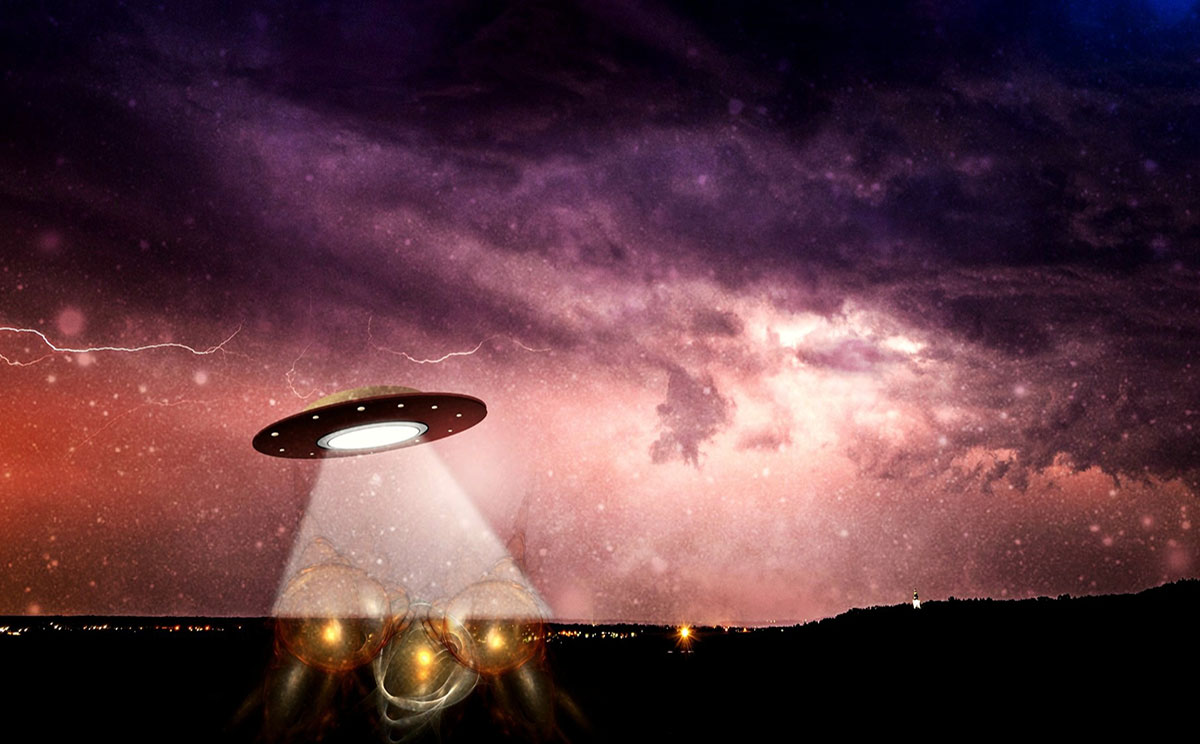 Take your seats, class, because it's time for another pop quiz! You seem to all be doing pretty well on these, so this week we're taking it up a notch and choosing a subject that's a bit more removed — as in, physically farther away — from your comfort zone. Today's quiz is on aliens and UFOs. How well have you listened to Skeptoid, and how much do you know about these famous urban legends, and their solutions?
So let's begin. If you want time to think about each of these, just be ready to hit the pause button before I give the answer, and feel free to take as much time as you need. And don't try to look for a pattern, because I used a D6 die as a random number generator to place each correct answer.
1997 brought us perhaps the single most famous mass-witnessed UFO event, when a line of super-bright lights appeared in the night sky above Phoenix, AZ. It's now known that the lights were illumination flares jettisoned by A-10 ground attack aircraft of the 104th Fighter Squadron of the Maryland National Guard, but we didn't know that yet. Shortly afterward, news media called Luke Air Force Base to ask if they had any planes flying over Phoenix. What were they told?
A. The Air Force acknowledged flight operations over Phoenix
B. The Air Force denied any flights had taken place over Phoenix
C. The Air Force refused to comment
The correct answer is B, the Air Force denied that any flights had gone over Phoenix that night. This is true, because the A-10s were nowhere near Phoenix; they were some 50 miles southwest of Phoenix, inside the Barry M. Goldwater Air Force Range. The witnesses who thought the lights were above the city itself were mainly in the northeast looking past downtown Phoenix, and it's virtually impossible to judge the distance of an extremely bright light in the sky.
Throughout 1983 and 1984, the Hudson River Valley was plagued by a number of UFO sightings, many witnessed by many people, the looked like a large object rimmed with bright lights slowly and quietly passing overhead. It took an intrepid police officer who vowed to follow the object wherever it went to finally realize what people had been seeing. What did he discover?
A. An advertising blimp en route between sporting events
B. A group of small aircraft flying in formation
C. Various stars and other celestial objects
The correct answer is B, a group of small planes flying in formation. It was a group of local pilots who called themselves the Martians, having fun turning their navigation lights on and off, varying their formations, and reading about themselves in the paper the next day. Police Sgt. Kenneth Spire followed the group to the Stormville airstrip once and verified that nothing they were doing violated any laws. Air traffic controllers already knew about them anyway, so Spire probably could have saved himself the trouble.
In 1975, two Arizona brothers, Travis and Duane Walton, reported that Travis had spent five days abducted by aliens. It is now commonly believed that they devised the story in order to sell, which they successfully did with a book and a movie. Their first target was a $100,000 prize offered by the National Enquirer tabloid for proof of aliens, and they attempted to provide proof in the form of passing lie detector tests. How did they fare with the prize?
A. The Waltons never got any money from the Enquirer
B. The Waltons received the full $100,000 prize
C. The Waltons sued for the prize money and eventually reached a confidential settlement
The correct answer is A, the Waltons did not get the prize. Although they passed a number of polygraph tests given by UFO proponents who believed their story rather uncritically, the Enquirer insisted on providing their own polygraph examiner. He gave a lie detector test to the Waltons, and reported it was "the plainest case of lying he had seen in 20 years." The Enquirer kept their money.
Alien abduction first became a pop culture phenomenon in 1961, when lifelong UFO obsessive Betty Hill and her husband Barney claimed to have been taken aboard an alien spaceship after watching it for a time along a highway in New Hampshire. The Hills reported that at one dark turnout where they pulled off to watch it, they watched a craft with a row of windows with people peering out. What do modern investigators now believe they actually saw?
A. A helicopter
B. A tramway
C. A gift shop
The correct answer is B, the Cannon Mountain Aerial Tramway, built in 1938, was operating at the time and place reported by the Hills. Its windowed cars were illuminated and were just about the right distance away from the turnout where Betty and Barney would have been able to make out the windows. And of course a tramway flies eerily and silently through the trees, just as she described.
In 1980, airmen stationed at the USAF base located at RAF Woodbridge on the Eastern coast of England spotted a mysterious pulsing light through the trees. The constables were telephoned, and base security personnel left the base and entered Rendlesham Forest in pursuit of the lights, fearing an accident. A Lt. Colonel accompanying them narrated the search with an audio tape recorder. Although television networks still call it the most famous UFO case in England, what was finally determined to be the cause of the lights?
A. Patrol car lights belonging to the constables they had summoned
B. Runway lights of RAF Bentwaters nearby
C. A lighthouse on the coast visible through the trees
The correct answer is C, the Orfordness lighthouse, which flashed every five seconds. The constables immediately realized this and wrote it in their report, then left. You can hear the light flashing as a five-second repeated beep that I've added in the Colonel's actual audio recording:
Shortly after the United States entered World War II, nervous civil defense gunners in Los Angeles, California opened fire one night with anti-aircraft artillery. Nobody is sure what the first to fire may have seen (it may have been a single meteorological balloon), but everyone else shot at smoke from the AAA bursts illuminated by searchlights. The falling flak did tremendous damage to private property throughout the city. Today, the story goes that they battled a gigantic UFO hovering above the city. When was this element added to the story?
A. In the 1980s, when the Majestic 12 documents appeared
B. In 2011, with the release of the Hollywood movie of the same title
C. In the 1950s, when Project Blue Book was underway
The correct answer is A, the late 1980s. Majestic 12 is the name for a set of hoaxed documents that pretend to be declassified government papers discussing our government's relationship with aliens. One of these fake documents, called the "Marshall/Roosevelt Memo", says that two aircraft that "are in fact not earthly" were recovered after the battle. This was the first time there was ever any UFO element to the Los Angeles event.
Australia's most famous UFO case happened in 1966, when many students at Westall High School witnessed two events: first was large silvery disk which silently descended behind a row of trees near the school, and second was a small streak of light being pursued by a small group of light aircraft for some 20 minutes. The first was proven to have been an errant meteorological balloon known to have passed in that exact direct at that exact time. The second object — which, though never proven — was satisfactorily determined to have been what?
A. A nylon target drogue towed by an instructor for student pilots to follow
B. A pair of advertising banners towed by small airplanes, one of which was tangled
C. A small group of skydivers from Dandenong Airfield
The correct answer is A, a nylon target drogue, complete with a towing tug and a group of some two to four student-piloted aircraft following. Such target drogues were known to be in use by the local RAAF, though not of course using live fire over a populated area. I never found any record of contemporary reporters following up with local RAAF squadrons or flight training schools, so although it remains speculative, it also remains the soundest explanation and ticks all the boxes. Also, I made up Dandenong Airfield.
Alien theorists cite many examples from the NASA space program as evidence that astronauts have interacted with aliens on some missions. The earliest such report is still the most famous, that a cloud of friendly "fireflies" gathered around John Glenn's capsule Friendship 7 while it was in orbit. Initially, everyone figured these were ice crystals from the hydrogen peroxide attitude control rockets, but Glenn was unable to correlate the use of the rockets with the appearance of the fireflies. What were the fireflies later proven to have been?
A. Ice crystals from the attitude control rockets
B. Ice that had frozen on the rocket before liftoff
C. Ice from waste ejected from Glenn's capsule
The correct answer is A, ice crystals from the attitude control rockets, exactly as everyone had initially thought. Spacecraft tend to accumulate clouds of debris and contamination around themselves, and even though Glenn's rockets sprayed jets of crystals away from the capsule, many of the crystals would gather in this contamination cloud, where they reflected sunlight and interacted with other gases in the cloud.
Newspapers worldwide buzzed with news that a rare blood-red rain that fell in India in the year 2001 had been determined to be an example of panspermia: cells of alien life. What did the final true explanation turn out to be?
A. Dust from windstorms in Africa
B. Spores of a red-orange algae
C. Acid rain from industrial pollution
The correct answer is B, spores of a red-orange algae called Trentepohlia. It was, however, initially reported as alien cells, thanks to some uninformed study done by two physicists who didn't know what an algae cell should look like. Their press release sounded sensational, so it dominated the world news, and the actual identification of the algae by government botanists went virtually unnoticed. Even today, searching online for the event will bring up mostly articles parroting the alien claim.
A famous story tells that the body of an alien whose spaceship crashed in 1897 is buried in the town cemetery of Aurora, Texas. The reason nobody has dug it up is because it turns out the original newspaper item which gave birth to the urban legend was merely a satire poking fun at what actual event?
A. A famous locomotive race
B. A traveling exhibition of the Cardiff Giant
C. A hot air balloon flight
The correct answer is C, a hot air balloon flight. For some reason, newspapers all over Texas were publishing satirical articles about balloon flights, each trying to outdo the other for the more fantastic explanation. The paper that included the article from Aurora included a compilation of 38 such joke stories, but for some reason, modern UFO investigators decided that one of the 38 was a literal true account and not an obvious satire like the others. And thus was born an urban legend.
As always, tweet me your score at Twitter.com/BrianDunning, or post it to the Skeptoid Podcast page on Facebook. Of course if you claim to get them all right but you're lying, then you'll just have to live in shame. You may even choose to stay forever hidden — just like all the aliens seem to.
©2023 Skeptoid Media, Inc. All Rights Reserved.