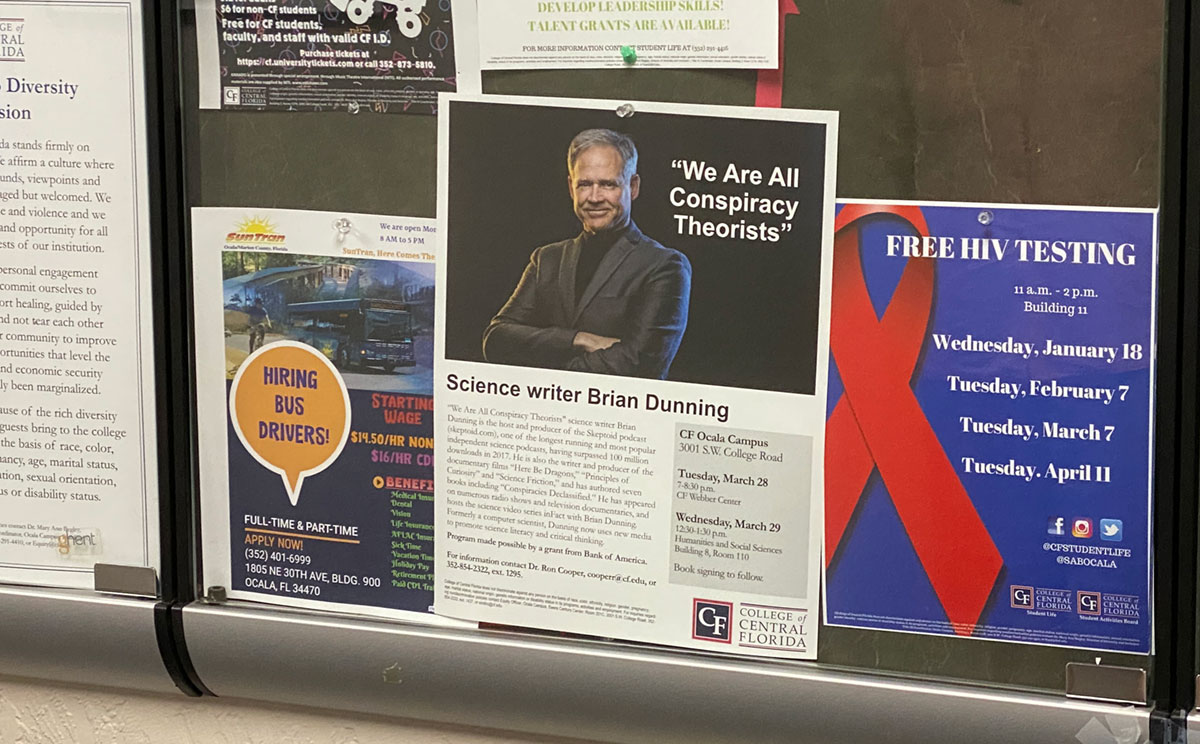 Student Questions: College of Central Florida, Part 2
Episode 886, May 30, 2023
Skeptoid answers a round of student questions recorded during a visit to the College of Central Florida.
Listen now:

Recent Programs
Hunting the Florida Skunk Ape


Episode 884, May 16, 2023


This Bigfoot-like cryptid is said to haunt the swamps of Florida. But has the story been around as long as people think?


Lies, Damned Lies, and Polls


Episode 883, May 9, 2023


Watch out next time you take a poll... is someone trying to learn about you, or manipulate you?


Alien Octopi


Episode 879, April 11, 2023


A popular Internet claim asserts that the DNA of the octopus is literally alien in origin.


Reining In the Expanding Earth


Episode 878, April 4, 2023


Although the Expanding Earth may seem like a silly conjecture, it was actually one of the leading geophysical models quite recently.


St. Patrick's Day Myths


Episode 875, March 14, 2023


Today's quiz tests whether you've been skeptical of what you think you know about St. Patrick's Day.


The Devil's Tramping Ground


Episode 874, March 7, 2023


Popular tales claim no plants at all will grow inside this round clearing in North Carolina, said to have been made by the Devil himself.


Earthquake Prediction


Episode 873, February 28, 2023


After every earthquake, there's always someone who claims to have predicted it. Is earthquake prediction possible?


7 Valentine's Day Myths


Episode 871, February 14, 2023


See if you can tell whether each of these popular beliefs about Valentine's Day are true or false.


The Dirty Secret of Dirty Electricity


Episode 870, February 7, 2023


Is there such a thing as a type of electricity running through your home's wiring that delivers horrific health impacts to anyone living there?


The Goat Man of Pope Lick Bridge


Episode 869, January 31, 2023


Stories of goat men are all over the world. Why is the Pope Lick goat man disproportionately famous?


The Non-Mystery of Nan Madol


Episode 865, January 3, 2023


Was this megalithic site in the South Pacific built by the people who lived there at the time, or by aliens?


Human Mosquito Magnets


Episode 862, December 13, 2022


Is it true that mosquitoes like some people better than others?