Skeptoid Depends on You.
a 501(c)(3) educational nonprofit - Download our Case for Support.
The Skeptoid podcast has been produced weekly since 2006, bringing science and applied critical thinking to up to a quarter of a million listeners every week. We think this is important (as well as fun and educational), so in 2012 we became a nonprofit devoted full-time to creating great content like this. We are funded almost entirely by listener donations, so if you enjoy the show, we need you as our partner.
Learn more about Skeptoid Media here.
As a member, you get to be a part of bringing high quality science and critical thinking programming available to schools and worldwide audiences for free. Please join us today.
Get Premium Access to listen ad-free
While the regular free version of Skeptoid is ad-supported and offers only the 50 newest episodes, financial supporters get the Premium version which is ad-free and offers the entire archive of over 600 episodes.
A recurring monthly pledge of $5 or more gives ongoing premium access.
A one-time pledge of $20 or more gives 30 days of premium access.
A one-time pledge of $50 or more gives 1 year of premium access.
Lifetime Illuminati ($1000 or more) gives lifetime premium access.
Using your credit card directly is the best way to donate to Skeptoid. The fees are usually zero, so your entire donation goes directly to where you want it, with no middleman taking a cut.

Online:

Offline:

If you prefer not to use
your credit card over the
Internet, download and
print this donation form.

Credit card numbers never pass through our server and are NOT stored or seen by Skeptoid. Our transactions are processed by

Stripe

, a

PCI Service Provider Level 1

. This is the most stringent level of certification available.
Using PayPal costs a bit more, but if you prefer to use it, we're happy to accept! Set it up right here:

---

Or, select an amount here to make a one-time, non-recurring donation: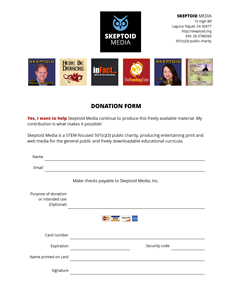 Download and print this donation form to send with your check. Checks can be sent via snail mail to:
Skeptoid Media, Inc.
740 NE 3rd St #3-220
Bend OR 97701
Please write your email address on the check so we can properly credit the donation to your account.
Skeptoid has an Amazon wish list with stuff that's always needed to produce the show and keep the train running. US taxpayers can deduct the value of anything you purchase for Skeptoid Media from their taxes.
One of the best, easiest, and FREE! ways to support Skeptoid is to always shop on Amazon using Amazon Smile. When you do this, Amazon will (out of their own pocket) make a charitable donation to Skeptoid Media every time you shop. Just drag this bookmarklet to your browser's bookmarks bar and click it whenever you access Amazon.com:
Amazon
Flattr is a system where you pay a small monthly amount of your choice, and each month they divide it equally among all the things you've indicated that you like. Click here to support Skeptoid via Flattr:
Important: At this time, Flattr supporters are invisible to me. I receive a single payment each month, but there is no way for me to know who it all came from, and your Skeptoid Members account won't get credited. So, if that's OK with you, it's OK with me.
If you don't know what this is, you should probably skip this option.
---
Bitcoin
The address to donate BTC to Skeptoid Media, Inc. is:
1Pb8FjtEHJkNJPH1CWwCZtKi37dyhSFNDx
You can also select the "Bitcoin" option using the regular credit card widget.
We can credit this to your Skeptoid Member account if you drop us an email at brian@skeptoid.com and let us know the amount and the date.
Manage your account, including recurring payments and email subscriptions, in the Members Portal.
All donations and gifts to Skeptoid Media, Inc. are tax deductible for US taxpayers under section 501(c)(3) of the Internal Revenue Code (sections 170, 2055, 2106, 2522).
Many employers match charitable donations. If yours will, they will need:
Skeptoid Media, Inc.
740 NE 3rd St #3-220
Bend OR 97701
EIN 26-3788260
Paid members of $20 or more can receive this 16GB USB drive containing:
• All Skeptoid episodes
• An HD version of Here Be Dragons plus the complete soundtrack
• HD versions of all inFact videos
• HD versions of all Feeding Tube videos
• An HD version of The Secret of the Gypsy Queen
• All Skeptoid musical episodes
• HD teaser for The Skeptologists TV pilot
• You get a cool Skeptoid sticker too.
To qualify, make a one-time pledge of at least $20 or set up a monthly recurring pledge of at least $5.