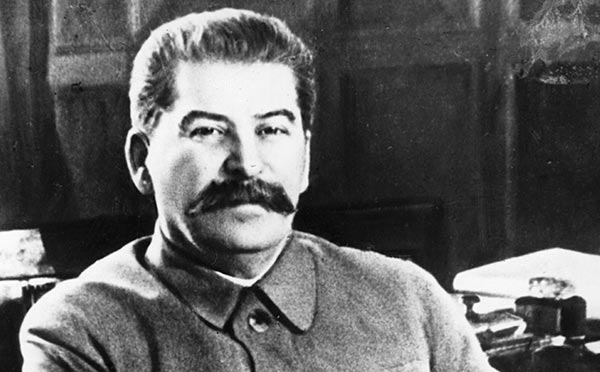 Hide that Bible in your pocket as the guard hustles you down the snowy road on your way to eventual death in Stalin's Gulag, for today's subject is the debate over whether more people throughout history have been killed in the name of religion, or in the name of atheism.
Atheist authors like Christopher Hitchens, Michael Shermer, and Sam Harris are always debating religious authors like Dinesh D'Souza, William Dembski, and Alister McGrath about whether or not God exists, or whether or not religion is good for the world. And, as predictably as the sun rises, these debates nearly always devolve into the argument of which side is responsible for the greatest death toll throughout history. Which is a more terrible killer: religious fundamentalism, or the lack of religion?
Christians charge that the most killing in history has come from modern atheist regimes. Adolf Hitler led Germany during World War II when he executed six million Jews in the Holocaust, three million Poles, three million Russian prisoners of war, and as many as eight million others throughout Europe. Joseph Stalin was the General Secretary of the Soviet Union following the Russian Revolution until his death after World War II. Between 10 and 20 million Soviets and German prisoners of war died under his regime, depending on how many famine victims you count, from Gulags, execution, and forced resettlement. Mao Zedong, who led China for more than a quarter of a century following World War II, created the Great Leap Forward and Cultural Revolution programs which collectively killed unknown tens of millions of Chinese, most of them in public executions and violent clashes. Pol Pot led the Khmer Rouge in Cambodia during the 1970's, when as many as 2 million Cambodians, or as much as 20% of the population, died from execution, disease and starvation.
History is full of uncounted massacres by armies carrying a religious banner, though most such episodes were in ancient times with much less efficient killing technology and microscopically smaller populations. The number of religious exterminations of entire villages throughout history is innumerable, though most had body counts only in the hundreds or thousands. Alexander the Great is estimated to have executed a million. 11th century Crusades killed half a million Jews and Muslims. Genghis Khan's massacres of entire populations of cities probably totaled a million. The Aztecs once slaughtered 100,000 prisoners over four days. An unknown number, probably in the millions, died in the Devil's Wind action in Colonial India. Up to four million Hindus, Sikhs, and Muslims died in post-Colonial India. The Ottoman Empire massacred two million Armenians over the years. Franco's Spanish Civil War killed a hundred thousand. A million have died in Rwanda, half a million in Darfur. And Christian vs. Muslim violence has obviously dominated our headlines for a decade, totaling somewhere in seven figures.
So who has been the worst throughout history: atheist regimes or religious regimes? Obviously the big numbers come from the 20th century superpowers (China, Russia, Germany) so the answer depends on how you classify those. And this is where the meat of these debates is usually found, splitting hairs on which regime is atheist, which is merely secular, which is non-Christian and thus fair game to be called atheist. Hitchens points out that Stalin's government had all the trappings of religion, including Orwell's totalitarian theocracy, and thus it's merely a play on words to say that it was not religious. Pol Pot was raised a Buddhist monk who grew up to execute Buddhist monks, along with anyone else he could lay his hands on. Whole books have been written on the occult underpinnings of Nazi Germany, the symbology of the Norse gods, to say nothing of the claims that Hitler was a Christian, Hitler was a Jew, and his own writings expressing the kinship he felt with the Muslims. A favorite counterpoint raised by Christian debaters is that these despots practiced Social Darwinism and were thus atheists by definition. In summary, the winner of these debates is the one who can convince the other that the big 20th century genocidal maniacs were motivated either by religion or by a desire to destroy religion. The entire debate is the logical fallacy of the excluded middle.
Here's the thing. If you write a book called God Is Not Great: How Religion Poisons Everything, you sell a lot of books. If you write a book called What's So Great About Christianity on the evils of atheism, you also sell a lot of books. If you say that neither extremist viewpoint makes any sense, you end up doing a podcast and working as a greeter at Wal-Mart directing customers to the section where they sell Hitchens and D'Souza books. The truth is less incisive, it's less inflammatory, it raises no ire, and it draws no audience.
And that truth, as I've said time and time again, is that people are people. No matter what segment of society you look at, you'll find good people and you'll find bad people. You'll even find, as has been said, that the line between good and evil cuts through every human heart. Certainly there are people in the news who kill in the name of religion, but just because they kill in the name of religion doesn't really mean they kill because of religion. The Islamic militants who cut off Nick Berg's head are not nice men who would have otherwise been his best friend, if it weren't for their religious convictions forcing them into this grievous act. They are base murderers, and they should be punished accordingly, I don't care whether they go to church or not. Killers don't really kill because of their religion. Neither does a lack of religious convictions cause one to run wild in the streets with a bloody axe and a torch. Religion is a convenient banner for many to carry, but there are plenty of other banners available as well, and if it wasn't religion, they'd do their deeds under some other justification, if they care to even have one. The real reason they do their evil deeds is that they're human. Humans are very smart, very capable; and when we want something, we generally find some way to get it, even if that means killing someone or committing genocide.
By doing this episode, I'm going to be called an apologist for atheist genocide. My dismissal of the entire argument as pointless and fallacious will be interpreted as a dodge from advocating a weak position. So go ahead and post that as a comment on Skeptoid.com, if you're still convinced that this is argument that can ever have a useful conclusion. I'm convinced that arguing either side is merely an opportunistic way to tingle sensitive nerves and sell a lot of books. And, I'm convinced that any discussion of the religious causes of genocide is a divisive distraction from the more worthwhile investigation into the true cultural and psychological causes. We are human beings, and we need to understand our human motivations.
So I am no longer going to participate in the childish debate of what religion has killed more people in history, because it doesn't matter. The way I see it, you might as well debate what color underpants are worn by the largest number of killers, and try to draw a causal relationship there as well. Religion does not cause you to kill people, and it certainly doesn't prevent you from killing people. Let's stop pretending that it does either.
©2023 Skeptoid Media, Inc. All Rights Reserved.