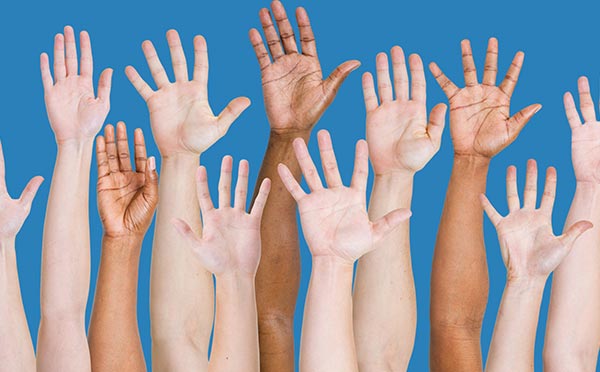 Once again we're diving into the mailbag to see what kind of feedback we're receiving from my sometimes-adoring fans. We are, for the first time, recording a Skeptoid episode in front of a live audience. We're at the University of California, Irvine, at the Skeptoid 250th Episode Party.
People often ask me if these emails and comments are actually real or if I just make them up; certainly real people couldn't be as far out as some of these. I assure you, they are, in fact, all too real. And just to prove it, we've invited some of the commenters here to the party to join us tonight, and to offer their feedback in person.
Let's get started with an email from PC in London, who wrote in reference to the episode on people who believe themselves to be electromagnetic hypersensitive:
I HAVE BEEN ES FOR 10YRS I AM NOT AN ELECTROPHOBE I WILL USE A MOBILE I WILL WATCH A TV ETC.. I DO NOT RUN WHEN I SEE A MOBILE PHONE MAST OR A PERSON APPROACHING ME WITH A PHONE HOWEVER ITS USSUALLY AT TIMES WHEN I AM QUITE SETTLED MINDING MY OWN BUSSINESS WHEN THE THAT FAMILIAR STINGING SENSATION/MILD STABBING PAIN IN THE HEAD ALERTS ME TO THE FACT THAT A PERSON SAY 2-10M AWAY IS USING A PHONE USSUALLY IN A QUE INSIDE A BUILDING.
That was a hell of a sentence; and in all caps, too! I bet you can't write an even longer one:
...YOU CAN DRIVE ME DOWN THE M25 BLINDFOLDED AND I WILL TELL YOU WHREE THE MOBILE MASTS ARE, I HAVE DONE THIS IN OTHER COUNTRIES AND CONVERTED MANY A SCEPTIC - TURN YOUR ATTENTION AWAY FROM HOUNDING THE SICK HERE AND LOOK AT ALL THE UP AND COMING RESEARCH ON THE EFFCETS OF EMFS ON THE GENERAL POPULATION NEVERMIND ES PERSONS, WHAT IS THE PHYCHOLOGY BEHIND THOSE THAT WOULD HAVE US BRANDED MAD AND DELUDED - WHY WAHT IS YOUR MENTAL PROBLEM !
Well, color me impressed. You do seem to be multi-talented. You can detect mobile phone antennas, you can press caps-lock, you can write a sentence of magnificent dimensions; but you're unable to diagnose my mental problem. I thought maybe you'd be able to tune into it with your radio powers. I guess not. Perhaps the fillings in your teeth need adjustment.
You suggest that I redirect my attention away from hounding the sick (I'm not sure Skeptoid could survive such a drastic change of format) and instead focus on the psychology of those who brand you as mad. I thank you for this compelling episode suggestion. However, as Skeptoid is only about a 10-minute show, I fear we wouldn't be able to cover a significant enough percentage of those people for the episode to be statistically significant. Perhaps if you could group those who brand you mad into categories, perhaps sort them by nationality, age, and other demographic factors, we could reduce it to a manageable number.
Dave from Earth wrote in to complain that I featured Richard Schulze as a Wacko of the Week in the Skeptoid newsletter. "Dr." Schulze is one of these guys who purchased an unaccredited online degree that required no coursework or curricula, and now sells "natural" and "herbal" supplements, detoxification products, and books and DVDs. One of his little catch phrases is "Unless maintaining chronic diseases with medical doctors, drugs and surgeries, and spending your nest egg to do it sounds like fun, I have an alternative. It's called health!"
I do not care for snake oil salesman.,
That's a good start, let's see how long you can keep it up.
..But what is clearly an ingnorance on your part to discount yet another persons experience in a field that takes only the ability to read from a recipe list passed down from generations all over the world!!
Wow, 2.6 seconds. Not bad, better than most.
..Do the math dude!!..1.3 billion people in China..All are relatively healthy by proportion to the entire population..Yet no western medicine practiced there?? Gee Brian..How about a reply or article on the bogus medicinal herb practice in that country!!..
There actually is a lot of interesting stuff to be learned from China's example. According to data published by the China Health and Nutrition Survey, in recent decades many Chinese have now had access to medical care for the first time, and as a result they're living longer; and combined with their policy of having fewer children, the population is aging rapidly. They've begun having access to more food choices, and so they're also getting fatter. This is what corrupt Western influence has done to China: It's made them old and fat. If a return to their traditional ways makes them young and thin, where do I sign up?
...You get one more chance ..lol..or a dick you will always be!!
Was that my chance? Did I fail? Damn; I guess that, as a dick, I better go sit with Dick Schulze.
Here's an anonmyous comment received in response to my episode on vaccine ingredients, in which we explained why the ingredients most often trumpeted as toxic poisons are used and what they do:
So you think that because those toxins are used in other products, that makes them safe?
Yes, exactly. Excellent listening comprehension. Can I borrow your brain?
...Are you kidding? Aren't you curious about why our health in this country is so bad? Why cancer is so prevalent... rates are so high in fact that we are told that we will get cancer, it's just a matter of when and how...
You're also told that you should donate all your money to Skeptoid.
...There is no amount of those poisons in the vaccines that is safe... and combine it with what comes in "contact lens solution", etc. and you have a toxic wasteland... Get the facts Brian and really, get educated.
A few more emails from you should complete my education. I always wanted to have omniscient insight into everything that I know nothing about.
Lynn from Tennessee wrote in about my episode on the appearance of so-called spirit orbs in photographs:
I have a collection of "orb" photos taken with an Olympus 7.1 mp digital camera. Many of the orbs have DISTINCT faces when zoomed in, some you don't have to zoom in. I have one taken in an old barn that is clearly a middle aged man grinning and you can even see his teeth. I have another with very prominent nose that looks indian or african american (and also very mean!) I have blue orbs that look like classic demons or devils with tiny horns protruding. ALL orbs are definately not explained away by bugs and dust. Many of my orbs were photographed in 20 deg. temp with no precipitation or "bugs" anywhere in site. And I usually take a second photo afterward and the orb is always gone. You skeptics need to stop being so narrow minded. The spiritual realm is all around us and I believe these are spirits of the nephilim or "familiar spirits" NOT humans because the Bible is clear in Heb 9:27 that humans go to one of two places after death. Anything that contradicts God is of the Adversary (Satan). And I'm sure I'll be scoffed at and ridiculed for following the truth.
You called that one right. Are you ready?
No, I'll be nice. I respect that you took so much time to write. In fact, so compelling was your anecdote about seeing ordered details in flash reflections that I took it to heart, and began searching for Bible Codes in your email (I trust you won't be offended by that). Here is what I found, but I warn you it's somewhat shocking:
Lynn, I am an orb. I follow you around in pursuit of your soul. I have teeth and horns and I'm mean looking. But I take issue with your description of my nose as "very prominent" and that I look Indian or African American. I am Dutch Irish.
Jim in Missouri saw right through one of the facts that the government pays me to cover up, as I did in my episode on fluoridation:
One of the main things that flouride does is causes people to be lethargic. Straight from my EPA chemical book. Ah... So thats why there are so many slow americans that believe anything their government feeds them.
Well, it got you to believe what you read in your government chemical book. You must be right.
Big John from the American Deep South was a bit put off by the instruction on the Skeptoid.com comment form that says "Remember, you should always read with skepticism the comments of anyone too lame to put their real name & city." He wrote:
What a vacuous twat you are Brian! If I declared myself with my real name and location then I would, very likely, be deprived of my property and, perhaps, my life.
This is true. Skeptoid works very closely with FEMA to identify and tag American citizens so they can be collected for orderly disposal in the disintegration camps. Skeptoid.com's comment forms are an integral part of this process. Notice that nobody ever posts a second time.
...But, that would never bother you a bit would it since it would not affect you. You haven't opened your mind sufficiently to include people who may not be safe when they declare their true thoughts in a close minded society such as the American Deep South.
I've read this feedback several times and I still have no idea what you're trying to say. Rather than drive myself nuts trying to figure it out, I'm just going to close my mind to whatever it was and move on.
The final letter comes from "Skeptic Cat" in Lansing, MI. It was not in regards to any specific episode, just came in through the general mailbox:
Just so you know Brian I am cancelling my subscription to you podcast and recommending others do the same. All these years you have never so much as said hello to me and throughout the so-called skeptical blogosphere I have either been completely ignored or actually shut out of conversations via comment moderation.
Well then, a belated hello to you. I am actually working my way through delivering personal hellos to all 140-something-thousand listeners. Maybe you're down toward the Z's.
...I never had a single date while identifying myself as a skeptic and have had 3 since deleting my blog only 4 days ago which was in fact very popular...
This confirms what I've long suspected: that there is an inverse relationship between blogging and dating. Thanks for informing me of your research.
...My overall opinion of this so-called skeptical community is completely negative and ultimately I think you are a group of mean-spirited and deeply unhappy individuals whose only joy in life derives from sucking all of the fun out of life for everyone else...
Fun and joy doesn't grow on trees. Money can't buy it. How else can I get it, other than by sucking it away from others?
...I spent a lot of time and money supporting this movement and all I got in return was a lot of cruel insults. It's a cult, it really is...
When you spend a lot of time and money to join a cult, and ultimately get out of it with nothing worse than cruel insults, you should consider yourself lucky. You should be thanking me.
...And I don't know what to tell you but I hate every single one of you with every cell in my body for the way you sucked me in and disrupted any chance of my ever being happy. Never once did anyone ever say "happy birthday" or "get well soon" to me...
What logic would there be in wishing you a happy birthday when any chance of your being happy has been disrupted?
...How on Earth can you sit there and judge what someone else believes when you treat your own fellow nonbelievers with such neglect and contempt.
Why, with my feet up, of course; and a cold drink.
...I don't understand it and I never will but I promise you that I will hate every single one of you until the day that I die and I really wish that I believed there was a hell for you to rot in it.
Thank you for contacting Skeptoid. Your message is important to us. Please continue to hold.
©2023 Skeptoid Media, Inc. All Rights Reserved.