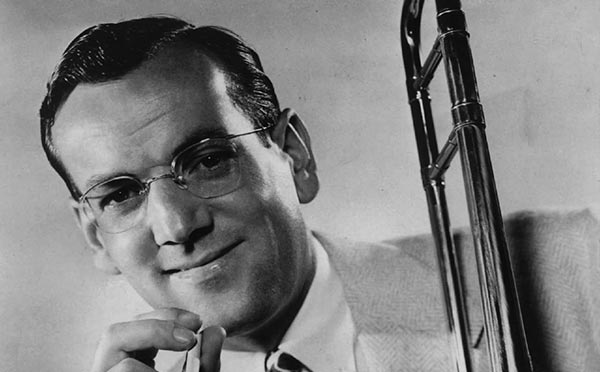 In 1944, Alton Glenn Miller, born 1904, was on top of the world. He was the world's most popular band leader, and the Glenn Miller Orchestra was the best selling recording group on Earth. His influence on big band swing music was rivaled only by the great Benny Goodman. A patriot, Miller convinced the United States Army to let him tour the theaters of World War II entertaining the troops. As a major serving in the United States Army Air Force, Glenn Miller boarded a small plane for a quick hop across the English Channel to give a concert in Paris. But the only destination that little single-engine plane and the three men on board ever reached was the file of history's unsolved mysteries. No trace was ever found, and Miller remains listed to this day as missing in action. He was only 40 years old.
As we so often see with celebrity deaths or any mysterious disappearances, rumors and alternative theories tend to pop up like daisies. What happened to Glenn Miller? Did he die in a plane crash at sea and was never found, or was he perhaps secreted away in some intelligence related spy story? What's known for sure is that he got on a plane. Glenn Miller's last flight was from RAF Twinwood Farm, a base for night fighters in Bedfordshire, operated by the US 8th Air Force. The plane was a UC-64 Norseman, a rugged little single-engine plane with seating for up to ten, used for transport and miscellaneous duties, and designed for operating on rough, unimproved surfaces. This particular Norseman had a short career, having been delivered only five months earlier from New Jersey. At the controls was Flight Officer John Morgan, and his passengers were Major Glenn Miller and Lt. Col. Norman Baesell, something of a wheeler-dealer who knew all the right people and would set up gigs for Miller. It was drizzling, the temperature was just above freezing, and the trio took off under heavy overcast at 13:53. The date was December 15, 1944. They never reached Paris.
The first theory, which is really just the default assumption, is that the plane went down and was lost at sea. It's an all-too-familiar scenario, and fits perfectly with the world's leading cause of air crashes: a controlled flight into terrain in poor visibility. December 15 was the first day in several days that air traffic in the area hadn't been completely grounded due to fog, and even still it was drizzling and cloudy. A normal flight should have taken just about two hours. Morgan was required to follow a specific air transport route called the SHAEF corridor once he left Twinwood; passing AAF Bovingdon, navigation waypoints at Maidenhead and Beachy Head, and then across the channel to a French waypoint at Fécamp, and finally landing at AAF Villacoublay just south of Paris. Estimated time of arrival was between 15:47 and 15:51. The Royal Observation Corps spotted the Norseman heading out over the water from Beachy Head at approximately 14:37, precisely on course and on schedule.
Pilots at all levels of experience sometimes lose their bearings. It's called spatial disorientation, and it's led to more than one famous air crash we've talked about here on Skeptoid (like this and this). According to simulator testing that's been confirmed time and time again in the real world, the average time a pilot has left to live once he becomes spatially disoriented is 178 seconds. Instrument rated or not, spatial disorientation followed by a controlled flight into terrain is the most common cause of pilot death. And of course a mechanical failure is perfectly plausible. No trace of the Norseman was ever found, so we have no evidence for whatever might have happened, other than the lack of a plane and what is, statistically, the most likely scenario.
However, it's not the most popular theory. The one you'll usually read about is quite a bit more colorful. While the Norseman was out over the Channel flying south through the bad weather, a flight of 138 British Lancaster bombers was on their way to bomb the railroad yard at the city of Siegen in Germany. They were forced to abort their mission because poor visibility had prevented their fighter escorts from taking off; and since it was too dangerous to try and land a bomber fully laden with live bombs, they jettisoned their bombs in the English Channel on the way back. South of Beachy Head was a ten-mile circle called the South Jettison Zone. Fred Shaw, a navigator in one of the Lancasters, told the story in several television documentaries:
We got about as far as south of Brussels when we recieved a message to the effect we were to return and jettison our bombs in the English channel. I never seen bombs exploding from a plane before. I put my head in a little observation blister where I could look vertically down, there sure enough 4000lb cookies were exploding and I could see the blast waves were radiating outward. As I was watching the bomb aimer said "there is a kite down there", and I looked down and saw a small tiny high wing monoplane... I saw him flip over to port he looked like he was going into a spin, he dived in and splash, then he disappeared under the wing.
Years later, Victory Gregory, the captain of Shaw's plane, confirmed that Shaw and two others had reported seeing the plane go down over the intercom. But since the mission was scrubbed there was no debriefing, no report was made of the downed plane; after all, these men saw planes go down nearly every day.
Shaw's story is remarkable and has gained considerable traction in popular culture, but it's hardly well accepted by the others who flew with him that day. Ron Brown is another who was aboard one of those Lancaster bombers, and in 2008 he wrote in the UK Telegraph newspaper that he felt it would have been impossible for anyone to have actually witnessed the jettisoned bombs strike the Norseman:
From leaving our airfield and throughout the flight the weather conditions deteriorated very rapidly and as we entered German air space we were recalled and detailed to jettison our bomb load into a pre-designated area of the North Sea. Over 100 aircraft were involved and an extremely dicey action in 9/10's cloud when we could hardly see our own wing-tips!...Considering that we were jettisoning from an altitude of 3,000ft with almost nil visibility, in my opinion a ridiculous claim from any observer. This was the only time we brought our bombs back from the target throughout our many operations.
Roy Nesbit, now the RAF editor for the British Defence Ministry's Air Historical Branch, spent a lot of time researching Shaw's story, and eventually, everything checked out. Even the timing was right, despite earlier findings that it wasn't possible. Apparently the British were on GMT and the Americans were on local time. The Lancasters took off at noon GMT, and that indeed would have put them just about where they needed to be to have encountered the Norseman over the South Jettison Zone.
The North Sea (described by Brown) is to the east of Great Britain; the English Channel is to its south. Both can't be right. No witnesses other than Fred Shaw personally claim to have seen the bombs take out a small plane. Shaw also states himself that he didn't remember the incident until after he saw the Jimmy Stewart movie The Glenn Miller Story ten years later in 1954. However, one point is telling. No record exists before 1954 that Glenn Miller's plane was knocked down by jettisoned bombs. When the death of a major celebrity is talked about for ten years with never a single mention of a particular theory, it's more than likely the case that that theory was born after the ten years.
This brings us to the third theory: Glenn Miller safely arrived in Paris, but suffered a heart attack in a house of ill repute that night, and intelligence officers concocted the "lost at sea" story to hide the inconvenient truth. It should be noted that no serious information supports this claim. The story didn't even exist until 1997, when German journalist Udo Ulfkotte reported in the tabloid Bild that he discovered this while reading through documents he obtained through the Freedom of Information Act (but of course, he never actually produced those documents). Later Ulfkotte said he'd been misquoted, and never claimed to have had any such documents; but to have merely heard the story told him by former German intelligence agents. Regardless, it's a wholly anecdotal story that requires too extensive a coverup to be taken seriously.
Then in 2011, a piece of evidence emerged that — according to the newspapers — finally solved the mystery of how Glenn Miller died. It came to light in an episode of BBC Antiques Roadshow, a television program where people bring in their antiques to have them appraised by experts. Sylvan Anderton, then 77 years old, brought in his late brother's notebook. Richard Anderton had been a teenager during the war and worked at Woodley Airfield. He was an avid planespotter, and amused himself by studiously noting in his book the movements of military aircraft that he witnessed.
Sylvan noted that his brother had inserted a newspaper clipping about Glenn Miller's death inside the book. On that page was the notation of "1 Norseman going ESE", with an S meaning that he was to the plane's starboard side. The date was December 15; and the time was in a block that covered 12:45 to 3:00 PM. At some point, Richard Anderton had realized that he'd seen Glenn Miller go by, stuck a clipping into his logbook, and that was that.
But did the discovery of the Anderton logbook actually solve the mystery? Not at all, and here's why. It merely agreed with what we already knew. The Glenn Miller Archive at the University of Colorado Boulder American Music Research Center confirmed that the Anderton sighting was consistent with the known flight path of the Norseman on its way to Beachy Head. From there, it struck out south across the English Channel, where it may, or may not, have been destroyed by bombs inside the South Jettison Zone. The Anderton logbook in no way answers that question.
How exactly did Glenn Miller meet his end? One way or another, it was in the English Channel in bad weather on December 15. Whether or not bombs had anything to do with it depends on a single unconfirmed report. It's certainly possible, but seems a million to one shot. But of course, every millionth event is a million to one shot. Whether this one hit the mark is a question whose answer is somewhere under 20 fathoms of cold water.
©2023 Skeptoid Media, Inc. All Rights Reserved.