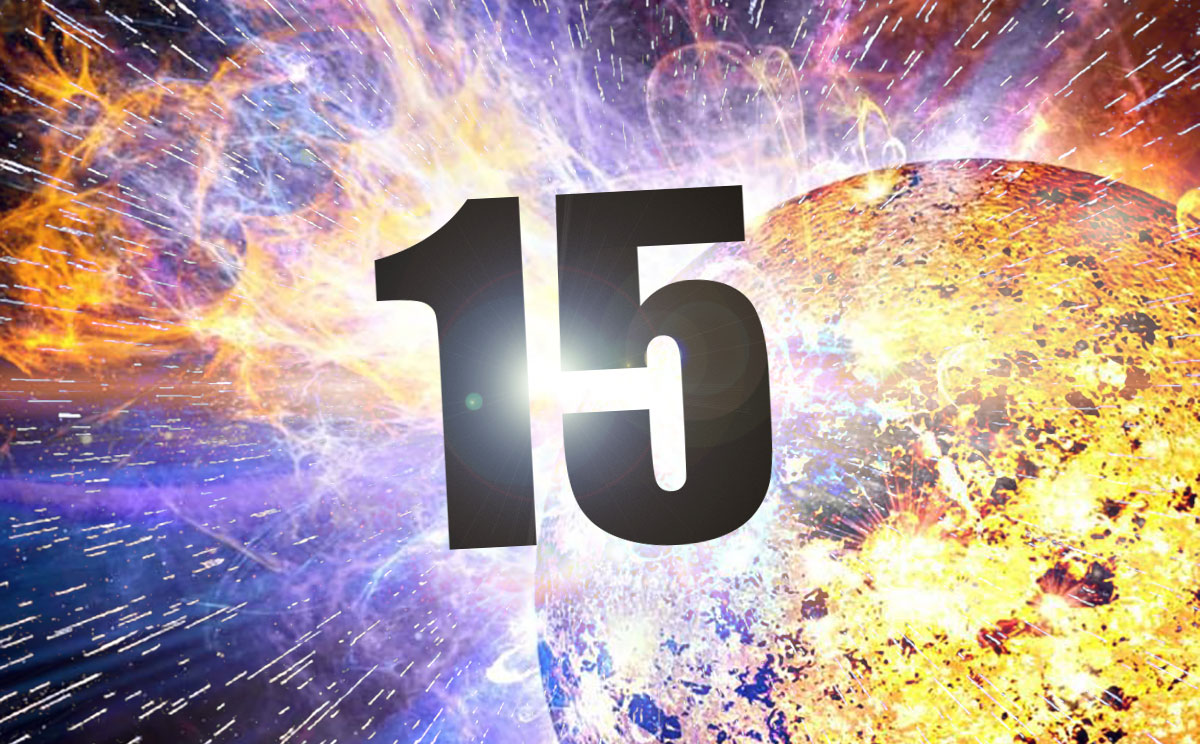 In celebration of Skeptoid's 15th birthday, I decided it's time to give myself a break from researching and quiz you all on past episodes — since that's all work I've already done in the past. But fear not; these are all pretty good general knowledge questions, and you shouldn't need to be absolutely fluent in all the myriad oddball details in some 800 Skeptoid episodes. All you need do is appreciate that every question involves the number 15. If you can get all 15 right, then you are indeed a Skeptoid superstar. Let's get started.
Question 1: The Mentor's Hair
In 1827, 15-year-old music student Ferdinand Hiller went to the home of his mentor who had died the day before, and took a lock of his hair — hair which today has been wrongly claimed to prove the great mentor died of lead poisoning. Who was the mentor?
Ludwig van Beethoven. It was common back then for the bereaved to keep locks of hair from the deceased, so many of Beethoven's survive. Although considerable press has been given to the highly publicized claim that modern testing has shown his hair to be laced with lead, little attention has been given to the science-based responses to this. Beethoven's symptoms and autopsy report bear no similarities to the symptoms of lead poisoning, and the positive findings of lead are perfectly consistent with expected sources of contamination, both contemporary and modern.
Question 2: The Russian Lab Rats
An urban legend speaks of Russian scientists who left a group of political prisoners alone in a sealed chamber for 15 days. When they went to check on them, they had committed horrors beyond any human experience. What was this experiment?
The Russian Sleep Experiment. The story goes that the prisoners were sealed into the chamber filled with a gas that forced them to stay awake, and thus sleep deprived for fifteen days, they went all kinds of insane and ate each other, cut their own flesh off, and did all kinds of unspeakable things, looking like nothing human when the chamber was opened. It's said to be an example of what can happen when you're sleep deprived for too long, but the story is, luckily, pure fiction, created for the Creepy Pasta website in 2010.
Question 3: How to Spot Pseudoscience
In an earlier episode, I created a 15 point checklist called "How to spot pseudoscience". This was based on the baloney detection kit developed by who?
Carl Sagan. In his great and famous book The Demon-Haunted World: Science as a Candle in the Dark he had a chapter called "The Fine Art of Baloney Detection" in which he laid out his list of principles to follow to make sure you're always erring on the side of what's probably true. In my episode, I relied on this one and several others from other authors to synthesize my own.
Question 4: The Phantom Bombers
In 1942, antiaircraft batteries were stationed around a major American city when the AAA commander reported a fleet of 15 enemy aircraft over the city. Batteries opened fire for over an hour, raining tons of shrapnel over the city and causing much damage. It was soon determined there were no enemy aircraft, and some now say the batteries were firing at UFOs. What city was this, after which this battle is named?
The Battle of Los Angeles. Today it's a bastion of UFO mythology that claims the government knows all about aliens and covers them up, but really all it was was a great big case of nervous trigger fingers from gun crews and their commanders immediately following a shelling attack on Santa Barbara by a Japanese submarine. It was not an unreasonable reaction at all.
Question 5: The Besieged Country Folk
In 1955, a Kentucky family was besieged by as many 15 small creatures they believed were aliens, and which we now believe was probably one pair of owls. In what town did this famous event take place?
Kelly-Hopkinsville. Hopkinsville is a town in rural Kentucky, and Kelly is a place name nearby. The event is usually known as the Kelly-Hopkinsville Encounter.
Question 6: The Twin Assassins
A popular urban legend claims there is a huge list of uncanny similarities between the assassinations of two US presidents. Among them is that both killers are known by their three names, and both those names have 15 letters. Name both assassins.
Lee Harvey Oswald and John Wilkes Booth. They are, of course the killers of John F. Kennedy and Abraham Lincoln. When we look at the list of similarities between their assassinations, it seems incredibly amazing; until you start to break it down, and find out that it's a case of confirmation bias (fixing on the matches and ignoring the much larger number of differences), and coincidences that disappear once you do the math.
Question 7: The Multitalented Element
In several episodes about global warming, we've discussed one particular element that plays an important role, and of its 15 isotopes, only 2 are stable. What is that element?
Carbon. Carbon-12 and carbon-13 are the only two stable isotopes of carbon, unlike the others such as carbon-14 which undergoes radioactive decay. This is why carbon dating works, and why all radiometric dating works; the unstable isotopes decay into the stable ones at a known and predictable rate, and we can measure the ratios of each one and find out how long it's been decaying.
Question 8: The Prolific Rockets
15 years before Sputnik 1 was launched, some 3,000 of these suborbital rockets were launched.
The German V-2. Although it was developed as a weapon of war, built by slave labor, and used by the Nazis to kill innocent civilians, the V-2 was also an important milestone in the development of space flight. It was liquid fueled, genuinely suborbital, and had the world's most advanced inertial guidance system. Many unarmed V-2s were employed in a vertical launch programs and actually made it all the way into space.
Question 9: The Vanishing Colonists
In one of several early attempts to establish this famous New World colony, Sir Walter Raleigh left a garrison of 15 men in the 1580s, none of whom were ever seen or heard from again. What was the colony?
Roanoke. It was just one of several unsuccessful attempts to get the colony established. After these 15 men disappeared, another much larger effort was made including whole families. It was this later, larger group of colonists who left the famous message carved in a tree, "Croatoan," and became who we now refer to as the Lost Colony of Roanoke.
Question 10: The Magicians in the Room
In the 1990s, the Society for Psychical Research held a series of seances in an attempt to prove that they are real contacts from the afterlife. These seances involved 6 mediums and 15 investigators. What was the experiment called?
The Scole Experiment. In their honest efforts to certify whether the mediums truly had supernatural abilities or not, the Society for Psychical Research had physicists come in and join the seances — reasoning that physicists are so smart they call tell if some phenomenon in the room was real or not. But physicists don't have any more knowledge of how magicians do their tricks than anyone else, and so are — of course — just as easy to fool. What they needed were magicians, who are very familiar with the arts of deception. One magician who was there, Richard Wiseman, later wrote me this succinct assessment of the event: "It was a load of rubbish."
Question 11: The Aggrieved Ambassadors
In October 2017, the United States expelled 15 Cuban diplomats in retaliation for what?
Havana Syndrome, aka "sonic weapons". Some American diplomats in Cuba, and also now in other US embassies around the world, believe they were attacked using some sort of "sonic weapon". The only thing wrong with this identification of the phenomenon made by the US government is that nothing in it is real. As Cuban scientists called it immediately, the symptoms experienced by some sufferers are textbook examples of those associated with acute stress brought on by some triggering event, possibly one of their colleagues complaining of pain and ringing from an ear infection, combined with the noise of unfamiliar insects outside. No Cubans working in the same houses and offices were affected.
Question 12: The Passionate Worshipers
When this alleged religious miracle took place in Egypt in 1968, 15 people were trampled to death by crowds trying to see it. What was this event?
Our Lady of Zeitoun. For three years, the luminous figure of the Virgin Mary was seen atop a Coptic church in Cairo at night, drawing crowds that sometimes reached tens of thousands. Fortunately, a proper academic was on hand from a local university, Dr. Cynthia Nelson, who studied the phenomenon in detail, and found nothing more than reflected lights and a crowd caught up in the excitement of the moment.
Question 13: The Funky Beverage
This fad beverage claims to be a superfood, but in a typical 2-ounce shot you get only 15% of the recommended daily allowance of Vitamin C. What is it?
Wheatgrass juice. It's been a fad for nearly twenty years, even though it's absolutely disgusting, overpriced, and provides virtually zero of the benefits that are claimed for it. Far from a superfood, it has no significant nutritional or caloric value — which is why humans don't eat grass — and essentially no vitamins or minerals, except that measly 15% of your Vitamin C and 20% of iron. For all the rest of the vitamins on its nutritional information chart? Zeros, all the way down.
Question 14: The Violated Scientist
When this famous researcher died, government investigators entered his home and reported:
His thoughts and efforts during at least the past 15 years were primarily of a speculative, philosophical, and somewhat promotional character often concerned with the production and wireless transmission of power; but did not include new, sound, workable principles or methods for realizing such results.
Who was he?
Nikola Tesla. His name has been hijacked and co-opted more than any other scientist by the promoters of woo and pseudoscience, largely based on the wild claims he made in his later years that had no foundation to them. One of these misuses of his name asserts that he created free wireless energy, but the government suppresses it; in fact, he tried to experiment with wireless transmission of energy, however it would still have had to be generated somewhere. We now know his ideas were generally sound but hopelessly inefficient.
Question 15: The Reclusive Cryptid
In the 1990s a pair of British cryptozoologists began a 15-year search in Sumatra for this cryptid, including taking plaster footprint casts. What is it?
Orang pendek. For a long time, a subculture of cryptozoologists have believed in an unknown species of ape in Sumatra, something of a cross between an orangutan and a gibbon. There are no known photos and no known evidence for its existence, and most reports of sightings are generally believed to be of either — wait for it — orangutans or gibbons.
So how did you do? If you got all 15, you are a Skeptoid superstar. If you got 10 or more, you have my respect and I tip my glass to you. And if you got fewer than 10, then you are my next most favorite kind of listener, because it means you've got plenty of podcasts to catch up on, and I'll be seeing you in your podcast player many more times!
References & Further Reading

Allen, Benedict. Hunting the Gugu. UK: Macmillan(hard), 1989. 192-208.

Baxter, J. "Raleigh's Lost Colony." The New England Magazine. 1 Sep. 1894, Volume 11: 565-587.

Childress, D. The Fantastic Inventions of Nikola Tesla. Chicago: Adventures Unlimited Press, 1993. 249.

Cornwell, J. Hitler's Scientists: Science, War, and the Devil's Pact. New York: Viking, 2003.

Editors. "Army Says Alarm Real." Los Angeles Times. 26 Feb. 1942, Newspaper: Front page.

Editors. It Came from Kelly. Hopkinsville: Kentucky New Era, 2005.

Eisinger, J. "Was Beethoven Lead-Poisoned?" The Beethoven Journal. 1 Jul. 2008, Volume 23, Number 1: 15-17.

Gillin, C. "How long can humans stay awake?" Scientific American. Nature America, Inc., 22 Mar. 2002. Web. 17 Nov. 2015. <http://www.scientificamerican.com/article/how-long-can-humans-stay/>

Harris, G., Davis, J., Londono, E. "U.S. Expels 15 Cuban Diplomats, in Latest Sign Detente May Be Ending." New York Times. The New York Times Company, 3 Oct. 2017. Web. 15 Dec. 2017. <https://www.nytimes.com/2017/10/03/world/americas/us-cuba-diplomats.html>

Lister, C. "Wheat Grass Nutritional Analyses." Crop & Food Research. The New Zealand Institute for Crop & Food Research Ltd, 12 Sep. 2002. Web. 9 Nov. 2006. <http://www.barleyleaf.co.nz/rightpages/WheatGrass.html>

Mikkelson, B. "Linkin' Kennedy." Urban Legends Reference Pages. Barbara and David Mikkelson, 16 Jan. 2013. Web. 24 Apr. 2013. <http://www.snopes.com/history/american/lincoln-kennedy.asp>

Nelson, C. "The Virgin of Zeitoun." Worldview. 1 Sep. 1973, Volume 16, Number 9: 5-11.

NOSAMS. "What is Carbon Dating?" National Ocean Sciences Accelerator Mass Spectrometer. Woods Hole Oceanographic Institution, 10 Mar. 2015. Web. 10 Dec. 2016. <http://www.whoi.edu/nosams/page.do?pid=40138>

Sagan, C., Druyan, A. The Demon-Haunted World. London, UK: Headline Book Publishing, 1996. 189-206.

Wiseman, R., Morris, R. Guidelines for testing psychic claimants. Hatfield, UK: University of Hertfordshire Press, 1995.
©2023 Skeptoid Media, Inc. All Rights Reserved.