Live Skeptoid Shows
See the Calendar | Continuing Professional Education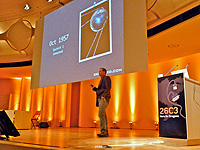 Berlin, 2009
Brian Dunning, producer and host of the Skeptoid podcast, is available to speak at your event or organization.
Skeptoid is a top science podcast on iTunes, and is enjoyed by 10,000 weekly listeners (as of Aug 13, 2022).
Audiences
Corporate and industry conferences, universities, local and civic clubs. All material is clean and appropriate for any audience.
Business / Continuing Professional Education
We also offer talks for professional organizations, showing how all-too-rare critical thinking in business can improve your bottom line. Certified for CPE in some industries.
Topics
Your Brain Sucks!

How Your Brain Fails You

Live demonstrations and audience participation are guaranteed to make every brain in the room fail. The human brain is terrible at collecting data, and yet so many of us make important decisions based on those experiences. Learn just how often and how dramatically our brains fail us, and — most importantly — how you can become the exception. Book this

Sounds from Beyond!

Sounds from Beyond!

An hour packed with weird recordings and sounds from all areas of the paranormal - it's the most fun you've ever had learning critical thinking! Ghost sounds, backwards recordings, radio broadcasts from outer space! Hear the weirdness, and learn the fascinating truth behind each one. Book this

Waterspouts & Swamp Gas: Challenging Popular Assumptions

Waterspouts & Swamp Gas: Challenging Popular Assumptions

Science communicators do almost as much bad science as anyone. This talk blows the lid off some of the huge mistakes the media has made, some terrible but popular so-called "skeptical" explanations for famous phenomena. It's a lot of fun, covers a lot of ground, and exposes a lot of stories and urban legends you've heard of. The concepts it presents — thinking errors, perceptual errors, preconceived notions and biases — are universally applicable to professionals in any industry or to students in any subject. Book this

Solving the Missing Cosmonauts

Solving the Missing Cosmonauts

A series of recordings made during the Cold War did not, in fact, prove that Soviet cosmonauts died in secret flights that never made it into the history books. In this talk, we'll dig deeper, and maybe find out what those recordings really were... Book this

Miracle or Science?

Miracle or Science?

An insider's look at five religious miracles that are far more interesting when we discover what actually took place. Simple debunking is just as useless as uncritical belief; the real excitement comes from learning the history and the context. Book this
Costs & Scheduling
Please email to inquire.