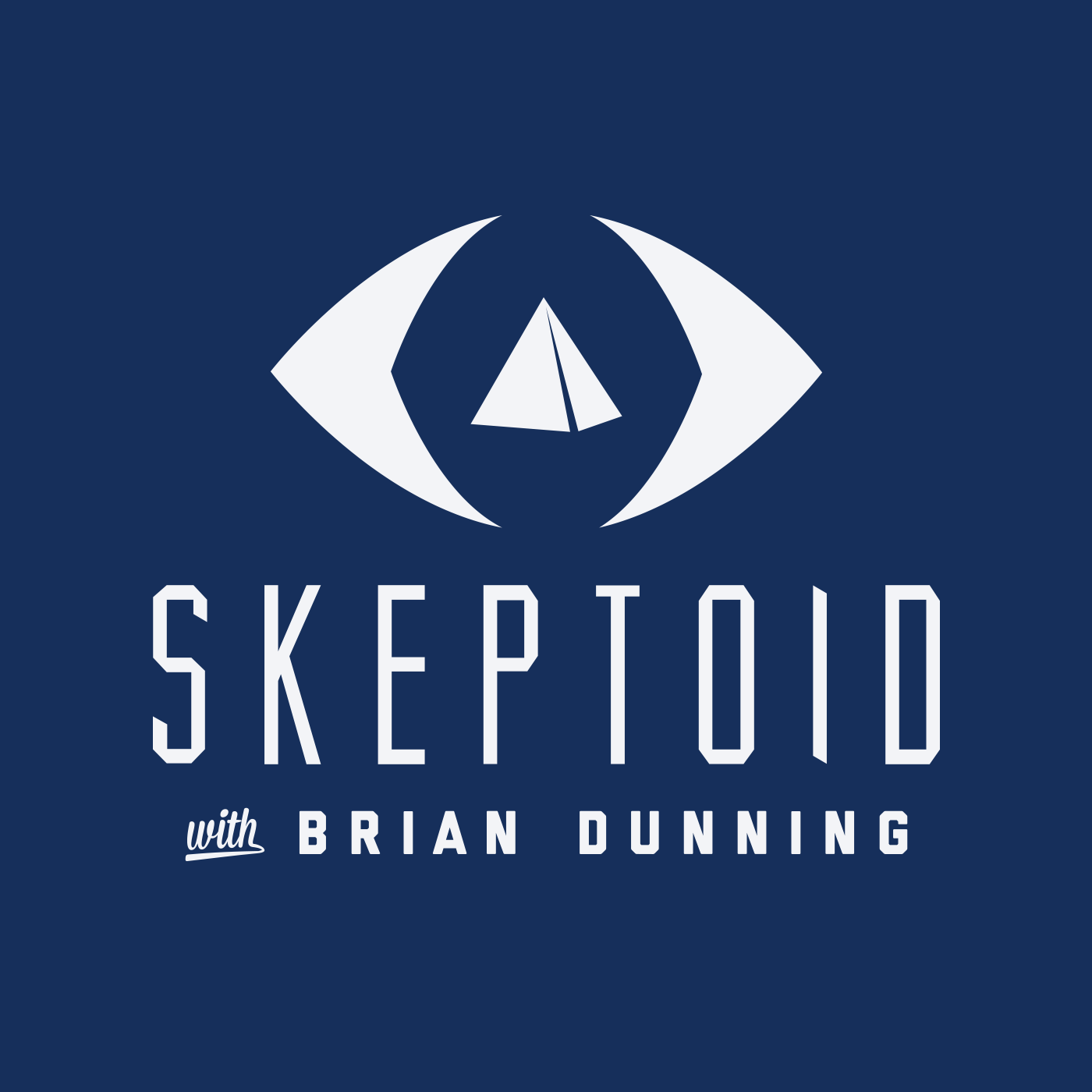 SKEPTOID PODCAST MEDIA KIT
December 2018
Since 2006, Skeptoid has been taking on all the most popular myths and revealing the true science, true history, and true lessons we can learn from each.

A member-supported 501(c)(3) educational nonprofit.
653 EPISODES
Every Tuesday at 7:00am PT
Since 2006

100,000,000
downloads
Surpassed in January 2017

113,000
weekly downloads
as of December 2018
Skeptoid has been a leading science podcast for more than a decade, consistently appearing on the front page of the iTunes science section since 2006. Each short-format, single-topic episode tackles a pop-culture belief that has fascinating science behind the legend. Episodes cover urban legends, paranormal claims, conspiracy theories, and worthless alternative medicine schemes. Always clean tagged and suitable for general audiences.
Download statistics for 8 recent episodes:
Episode
Released
After 1 week
After 4 weeks
#649: George Soros Conspiracy Theories
Nov 13, 2018
60,182
72,612
#648: Pop Quiz: Aliens and UFOs
Nov 6, 2018
57,320
70,096
#647: All About Mindfulness
Oct 30, 2018
66,493
81,068
#646: Animal Earthquake Prediction
Oct 23, 2018
58,595
72,642
#645: Pop Quiz: Ancient Mysteries
Oct 16, 2018
59,436
72,266
#644: Parts Unknown: Foreign Conspiracy Theories
Oct 9, 2018
61,041
75,349
#643: The Mysterious Stone Chambers of New England
Oct 2, 2018
60,205
75,006
#642: Pop Quiz: Cryptozoology!
Sep 25, 2018
59,767
74,140
Average
60,000
74,000
Four sponsorship slots are available in each weekly program, two 20-second prerolls and two 60-second midrolls.
| | | | | |
| --- | --- | --- | --- | --- |
| :20 preroll, live read | | $20 CPM | | $1,480 |
| :60 midroll, host read | | $35 CPM | | $2,590 |
Skeptoid maintains an active social media presence, with both curated and automated posts to Facebook and Twitter including current and archived episode announcements, and current science news and commentary.
| | | |
| --- | --- | --- |
| facebook.com/SkeptoidPodcast | | 28,750 followers |
| twitter.com/BrianDunning | | 37,500 followers |
Skeptoid exposes your brand to an extremely desirable audience:
Earns over $75,000 per year:
Skeptoid listeners
48.5%
All podcasts
41% *
US population
33% *
Has an advanced university degree:
Skeptoid listeners
28.9%
All podcasts
29% *
US population
21% *
* Edison Research, 2016
Skeptoid episodes cover a diverse range of urban legends, everything from monster and UFO stories you believed as a kid, to current pop trends in alternative wellness and conspiracies. Periodic corrections and update episodes keep us honest. All programming is clean tagged and suitable for general audiences. Everyone finds something to enjoy in Skeptoid, and everyone will also find something to challenge them.
Our Teachers Toolkit, offered free to qualifying educators (skeptoid.com/teachers), provides unlimited access for educational purposes along with additional resources.
Here are six episodes currently trending:



Deconstructing the Rothschild Conspiracy


Some believe that world governments and economies are secretly controlled by the Rothschild banking family.



The Denver Airport Conspiracy


Is the Denver International Airport a headquarters for the New World Order? (Hint: no)



The Siberian Hell Sounds


Russian scientists are said to have drilled a borehole that broke into hell and released the screams of the damned.



The Real Philadelphia Experiment


The US Navy did not make a warship completely disappear in 1943.



Orbs: The Ghost in the Camera


Spirit orbs in photographs are not ghosts, but a common artifact of flash photography.



Shadow People


These shadowy apparitions we sometimes see can be terrifying, but aren't supernatural.
A selection of corporate partners who have sponsored Skeptoid episodes in the past year include:
| | | |
| --- | --- | --- |
| The Great Courses Plus | MVMT | ZipRecruiter |
| Casper Mattresses | Bombfell | Blue Apron |
| Audible | Harry's | Indochino |
SKEPTOID

PODCAST


Skeptoid: Critical Analysis of Pop Phenomena is an award-winning weekly science podcast. Since 2006, Skeptoid has been revealing the true science behind popular misinformation and urban legends, with 113,000 weekly listeners. The web site and podcast are nonprofit and listener supported.

THE HOST

BRIAN DUNNING


Science writer Brian Dunning is the host and producer of the Skeptoid podcast and the executive director of Skeptoid Media. He is the writer and presenter of the documentary films Here Be Dragons (2008, herebedragonsmovie.com) and Principles of Curiosity (2017, principlesofcuriosity.com). He has appeared on numerous radio shows and television documentaries, and also hosts the science video series inFact with Brian Dunning (infactvideo.com). He is the author of Conspiracies Declassified (2018) from Simon & Schuster. He is a member of the National Association of Science Writers and lives in central Oregon with his family.

SKEPTOID

MEDIA, INC.


Skeptoid Media encourages public science literacy and critical thinking worldwide by producing free, STEM-focused educational and entertainment content. A 501(c)(3) educational nonprofit, the company produces a range of audio and video podcasts, web articles, and documentary films, all available free at skeptoid.org.
For information about sponsorship opportunities, please contact:

Alexa Labadie
Sponsor Liaison
Skeptoid Media
alexa@skeptoid.org

For grants and major donor relations, contact:

Linda Orcelletto
Special Gifts Officer
Skeptoid Media
541-419-3492‬
linda@skeptoid.org

For other matters, please contact:

Brian Dunning
Executive Director
Skeptoid Media
brian@skeptoid.org

Skeptoid Media, Inc. • 740 NE 3rd St., Ste. #3-220 •  Bend, OR 97701 •  skeptoid.org
A 501(c)(3) nonprofit public charity
EIN 26-3788260